ONGOING AND UPCOMING EVENTS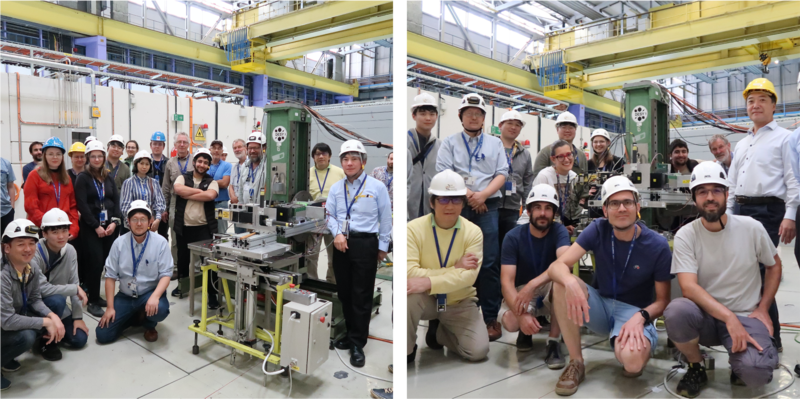 The FoCal test beam at the CERN PS (6-21 June 2022) is going in full swing. The main priority of the group is to test the FoCal-E with 18 pad layers and the new aggregator readout, as well as to test a 1.1 m long tower of the new FoCal-H prototype detector. More photos in the
cds link
.
LHC Seminar, Tuesday 21 Jun 2022, 11:00: "Closing in on critical net-baryon fluctuations at LHC energies: cumulants up to third order in Pb-Pb Collisions with ALICE" by Mesut Arslandok.
 
ALICE Mini Week will take place from 27 June to 1 July. Detailed Agenda will be circulated next week.
 
ALICE Physics Forum: 29 June 2022
 
ALICE Physics Week 2022 (25 Jul 2022 → 29 Jul 2022):  the Physics Week will be held in the CERN Main Auditorium and on zoom. The 8 PWG sessions will include the preparation and new ideas for Run 3 analysis, as well as the status of the measurements with Run 1 and 2 data. Two special sessions will be held on Thursday 28 July afternoon:

ALICE Thesis Award 2022 ceremony, with short presentations of the awardee(s)
ALICE In Motion, with new ideas and developments

Please register in indico if you plan to participate in the following two social events at CERN:

Monday evening: Welcome Drink
Thursday evening: Buffet Dinner

Healthy Minds for Master Minds Workshop: Thank you to those who participated in the Healthy Minds for Master Minds Workshop at ALICE week last week!  In order to collect your feedback on the Mental Health Workshop conducted during last week's ALICE week, we kindly ask you to take a few minutes to answer the questions in this survey. This will help the organizers in view of future follow up events.
 
PAPERS IN THE COLLABORATION REVIEW
All publications of the ALICE Collaboration submitted to Refereed Journals are in the link here
NEWS FROM POINT 2
Please sign up for vacant Shift Leader and ECS Shifters positions.
 
Run coordination:

Commissioning with 900 GeV collisions ongoing
Deployed  multi TF synthetic pp, working on replaying real TF (raw synthetic) replay
Online FLP and EPN software updates being validated for the next round of 900 GeV collision with possible multi-bunch injections and ALICE polarity inversion
Event display with full central barrel tracks (tested with synthetic pp runs) as shown below:


CONFERENCES
CURRENT CONFERENCES AND SCHOOLS (starting this week)
SPEAKING OPPORTUNITIES (events within 3 months or deadline within 1 month)
JUNIOR'S CORNER
Messages from Junior representatives (Carolina, Hannah, Luca)
OUTREACH NEWS
Visits to the ALICE exhibition:

Friday 11.6 Ukrainian visitors
Saturday 12.6 Ukrainian visitors; ALICE colleagues
Monday 13.6 Turkish high-school
Tuesday 14.6 Dr Raja Ali Raza Anwar, Chairman, Pakistan Atomic Energy Commission
Thursday 16.6 Shri Sunil Ganju, Secretary, Atomic Energy Commission and Head, Institutional Collaboration and Programs Division, Department of Atomic Energy, India

Events in July 2022:
 

5 July 2022: LHC Run3 Live Event: streamed on all CERN Social Media Channels + CERN webcast
DIVERSITY
Inclusive Teamwork Workshops: All ALICE members in positions of responsibility are encouraged to attend. Still places available for the following sessions (registration on Indico):
 
ALICE Diversity Office website can be accessed here. Your feedback is extremely important, feel free to contact us at
alice-diversity-office@cern.ch
 
JOB OPPORTUNITIES

Have a great weekend and a great week ahead!