LS2 Installations: ITS Outer Barrel and MFT
ALICE INDICO
update on - 04:55:57
The ALICE Collaboration has built a detector optimized to study the collisions of nuclei at the ultra-relativistic energies provided by the LHC. The aim is to study the physics of strongly interacting matter at the highest energy densities reached so far in the laboratory. In such conditions, an extreme phase of matter - called the quark-gluon plasma - is formed. Our universe is thought to have been in such a primordial state for the first few millionths of a second after the Big Bang, before quarks and gluons were bound together to form protons and neutrons. Recreating this primordial state of matter in the laboratory and understanding how it evolves will allow us to shed light on questions about how matter is organized and the mechanisms that confine quarks and gluons. For this purpose, we are carrying out a comprehensive study of the hadrons, electrons, muons, and photons produced in the collisions of heavy nuclei (208Pb). ALICE is also studying proton-proton and proton-nucleus collisions both as a comparison with nucleus-nucleus collisions and in their own right. In 2021 ALICE is completing a significant upgrade of its detectors to further enhance its capabilities and continue its scientific journey at the LHC for many years to come.
Recent highlights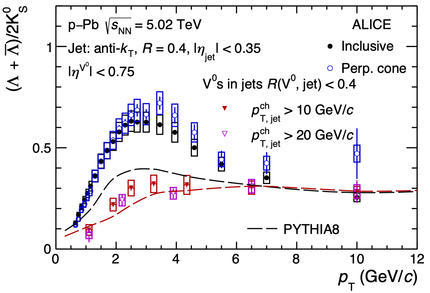 In a recent study, the ALICE Collaboration has studied baryon-to-meson ratios with a new twist: by studying the ratios in two parts of the events separately – inside jets and in the event portion perpendicular to a jet cone.
arXiv
.
Neutral pion and eta meson production cross sections at midrapidty were measured up to unprecedentedly high transverse momenta in proton-proton (pp) and proton-lead (p-Pb) collisions at √s_NN = 8 and 8.16 TeV, respectively.
arXiv
.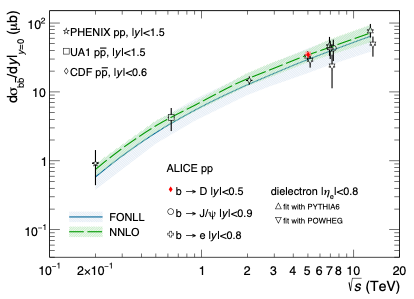 The beauty-quark production cross section was measured at midrapidity by the ALICE Collaboration in pp collisions at √s = 5.02 TeV through non-prompt D-meson measurements exploiting machine-learning classification techniques
arXiv
.
Upcoming Conferences (Next Week)
Diversity and Inclusivity in ALICE
The ALICE Collaboration embraces and values the diversity of its team members and colleagues. We are committed to fostering an inclusive environment for all people regardless of their nationality/culture, profession, age/generation, family situation and gender, as well as individual differences such as but not limited to ethnic origin, sexual orientation, belief, disability, or opinions provided that they are consistent with the Organization's values.