ONGOING AND UPCOMING EVENTS
NEWS and ANNOUNCEMENTS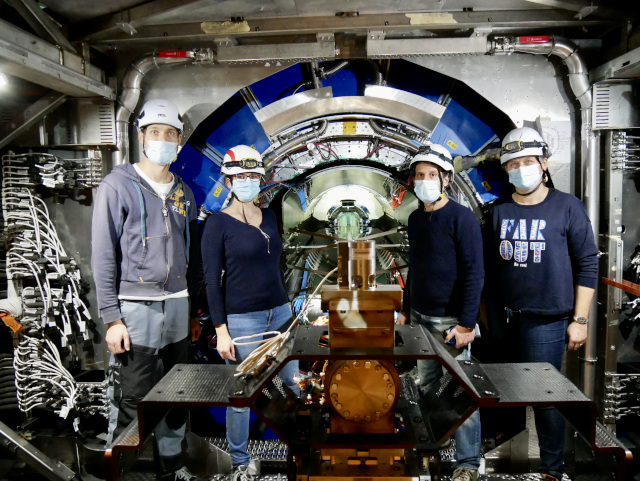 New this week:
        - The current CERN teleworking framework has been extended until the end of February.
        - Change in the hours of curfew in France: to run from 6.00 p.m. to 6.00 a.m. across the country, starting from Saturday 16 January, for 15 days minimum. If you foresee that you will go beyond the 6.00 p.m. deadline, you should carry the CERN "attestation de déplacement professionnel" with you. The attestation should also be carried when executing standby and piquet services during the night and is solely for professional purposes.
      - The Swiss Federal Council is also extending and tightening its measures with effect from Monday 18 January. Details are in the link here.
      For any information and support regarding the quarantine period contact ALICE-covid19-coordination@cern.ch
ALICE secretariat opening next week: Monday 18th January, from 8h30 to 12h30 and from 13h30 to 17h30.. Nathalie, Guylaine & Julia remain available by phone and e-mail.
NEW PAPERS ON THE ARXIV
All publications of the ALICE Collaboration submitted to Refereed Journals are in the link here.
New ALICE paper submissions appear in twitter: ALICE_Publications
PAPERS IN THE COLLABORATION REVIEW

Paper in Round - 1:
Title
Deadline for comments
 

15 January 2021

 

20 January 2021

 

27 January 2021
NEWS FROM POINT 2
Surface commissioning, commissioning at P2 and labs, and remote commissioning are progressing well for all central and subsystems. The main highlights of this week (RC meeting: https://indico.cern.ch/event/992675/):
ITS:  Deinstallation ongoing in the lab. Service installation at P2 ongoing.
TPC :  Connection of A-side and C-side ongoing. HV ROC connectivity tests successfully. All stacks ramped up to 50%. FC tested up to 10kV. Noise data taking for all powered sectors.
MCH: CH9R in Station 5 started readout commissioning.  New electronics installation ongoing for CH10R. 4 ST1 quadrants being installed in the FASS.
MFT:  Powering the entire MFT was done for 4 minutes (limited by cooling - now being commissioned) without any issues.  Early commissioning through PRBS ongoing.
       MW1 (17-22 January): Next week's MW1 is dedicated to O2 integration and subsystem integration into O2. Time-schedule is available in indico (https://indico.cern.ch/event/991294/).
Conferences
CURRENT CONFERENCES AND SCHOOLS (starting this week)
SPEAKING OPPORTUNITIES (events within 3 months or deadline within 1 month)
OUTREACH NEWS
ALICE Visits: since the onsite public visits are cancelled as of now, a possible scenario for the virtual visit can be found at this link.
 
Weekly activities open to everyone at CERN: from relaxing coffee meetings to High Intensity Training. CERN colleagues have put together a series of activities to help us stay connected in these challenging times. Find out what's coming up in the link here.
DIVERSITY
                  ALICE Diversity Office website can be accessed here.
Have a great weekend and a great week ahead!