My name is Neelima Agrawal and I am from India. I have done my PhD thesis in the ALICE experiment and I am currently a postdoc at INFN Bologna, Italy.
I was born and raised in the north of India (Dhanaura, Uttar Pradesh, near New Delhi) in July 1990 and I received my basic primary school education there. In school days, I was an enthusiastic child and I was participating in cultural performances and group activities. I realised the importance of higher education to become a self-independent woman at a very early age, when I was about 10 years old. But I was a girl and with very limited financial strength which did not make it easy for me to succeed in my dreams. My passion to obtain a scientific education together with my fighter spirit kept me motivated and after primary school education I eventually had the chance to attend the University. I joined the Kurukshetra University (Haryana, a neighbouring state) for my B.Sc degree in Maths, Physics and Computer Science (2006-2009) and my M.Sc degree in Physics (2009-2011).
Later in 2012, I had the privilege to be selected for a PhD in the Department of Physics at IIT Bombay, Mumbai, India. With the start of my PhD admission, I became part of the ALICE Collaboration working in the PWG-LF group on resonance analysis. During my first visit to CERN in summer 2013, I was privileged to work in the ITS group for some time. In February 2018, I received a PhD degree for the analysis of Λ(1520) resonance production in heavy-ion (Pb-Pb @ 2.76 TeV) collisions. A few months later, I was selected for a 1-year research grant from the "Enrico Fermi" Centre (Rome, Italy) starting from January 2019. Soon after, I was informed that I was selected for a INFN position in the Foreign National Fellowship program and starting from the beginning of November 2019 I am a postdoc at INFN Bologna, Italy.
Coming to the point of nominating myself for the junior representative post, I am firstly very thankful that I got a chance to present myself to all of you. While working in the globally diverse yet closely bound ALICE collaboration I grew up a lot both as a physicist as well as a person. As one of the junior voices in the collaboration board, I believe that every individual must have the right to present their opinion and suggestions for the improvement of ALICE policies, especially those directly affecting our work (e.g. service work, analysis approval, paper publication policies). I am very much open to gather new ideas and prospects from the juniors and present them to the collaboration. I also believe that the juniors can help each other in the career journey, sharing advices with those who seek new opportunities/scholarships and by supporting each other, perhaps also with some guidance from the most experienced in the preparation of the necessary documentation.
I am sure I will be able to work with all of you by understanding every individual struggles and I will be happy to share my experience with all of you. I look forward to get all the ALICE junior community together such that it can be a more supportive and friendly environment for every individual, regardless of their origin, gender or race. I will make sure that none of the juniors should face any racial discrimination, humiliation, remarks or judgements by any individual in the collaboration regardless of their nationalities. Lastly, being located in Bologna, Italy, I will be not too far from CERN and it will be therefore simple to be present during ALICE weeks and Junior meetings in person.
---
Charles Hughes​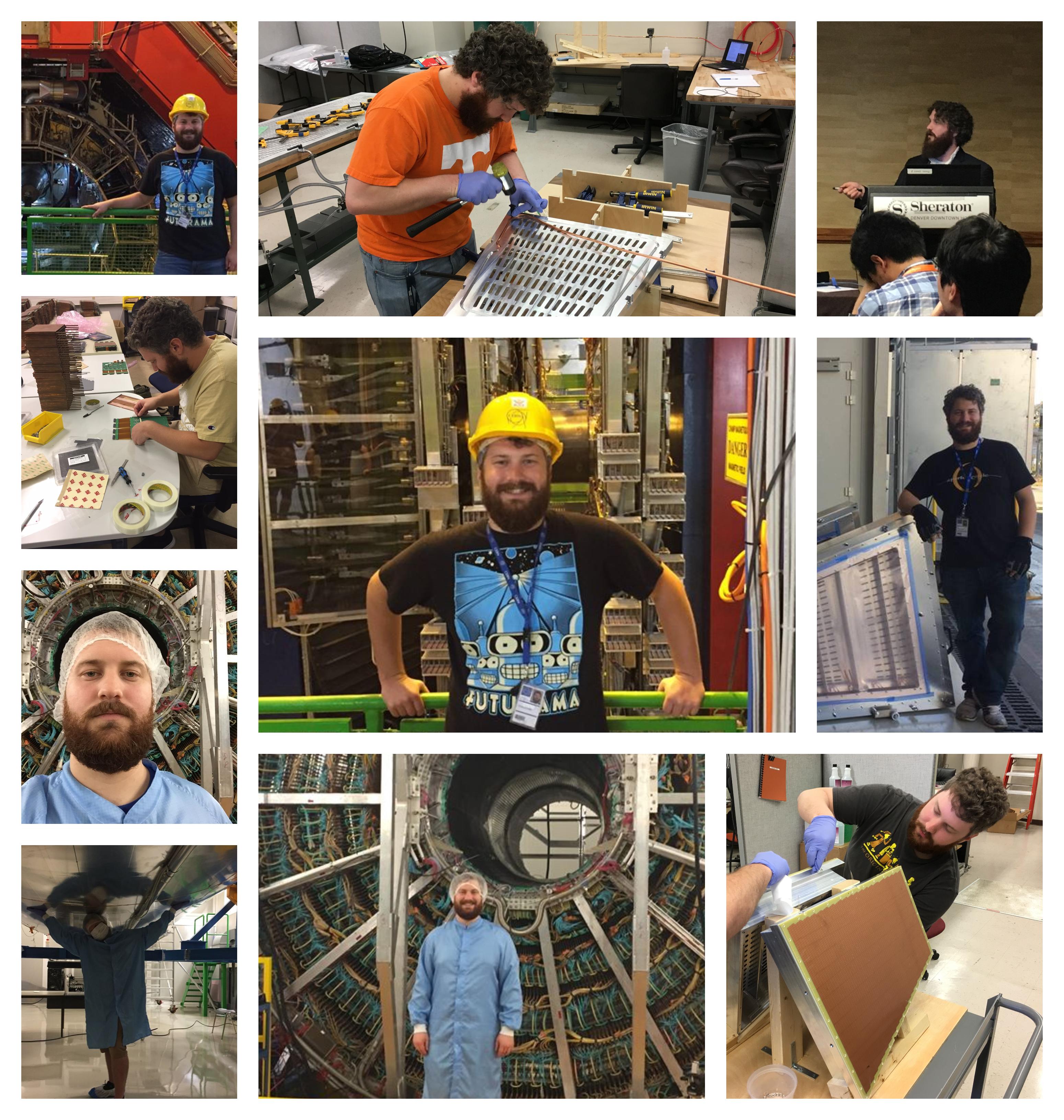 Who I am: 
Hello, my name is Charles Hughes. I am in the middle of my fifth year as a Ph.D. student at the University of Tennessee in Knoxville, TN, U.S.A. My thesis topic is "Measuring Fragmentation Functions using Jet-Hadron Correlations measured in Pb-Pb collisions at 5.02 TeV".

I am 27 years old. I was born in Panama City, Florida, USA. Before my Ph.D., I enjoyed fishing, boating, and reading. Now I mostly work on my thesis though I still get a chance to read for fun every now and then. 

During the course of my Ph.D. I worked extensively on the ALICE TPC upgrade. I helped assemble all 36 of the Inner Read Out Chambers (IROCs) at the University of Tennessee. I also helpled in the in-situ ROC testing done during the end of Run 2 (~ Fall 2018) and the Quality Assurance testing of the Gaseous Electron Multiplier foils at Yale and CERN. During Summer 2019, I also assembled the TPC front end cards at CERN. Finally, I helped with the precommissioning of the ALICE TPC this winter at P2.

Why I want to run:
I want to run as a Junior Rep to help foster a more inclusive environment for the ALICE juniors. In particular, I think it is important for the Juniors not permanently at CERN to be recognized as the important members of the collaboration they are. I believe our science is at its best when everyone works together. For many juniors not at CERN, I think it can be easy to feel left out as you are more distant from the physical experiment (even if your contribution is vital). It takes many different people with many different talents to make ALICE work. Many people do vital software work, some do vital hardware work and all should be recognized (regardless of where this takes place). This is important because I believe many people who work outside of CERN may labor with the feeling their work does not matter. It absolutely does. 

What I want to do as a Junior Rep:
- Make sure meeting minutes from crucial meetings circulate to the Juniors (e.g. about important ALICE policy)
- Make sure that Junior input is gathered and acknowledges (also about important ALICE policy)
- Feature a brief (one paragraph) interview/picture with an ALICE junior from a different institute each month on either aliceinfo.cern.ch or the ALICE newsletter. We could call it "Junior's Spotlight"
    - (for the above, an important caveat applies: the Junior member must be willing. Many people are shy and that is ok; I am not proposing to feature anyone that does not want to be featured)
---
Anjaly Menon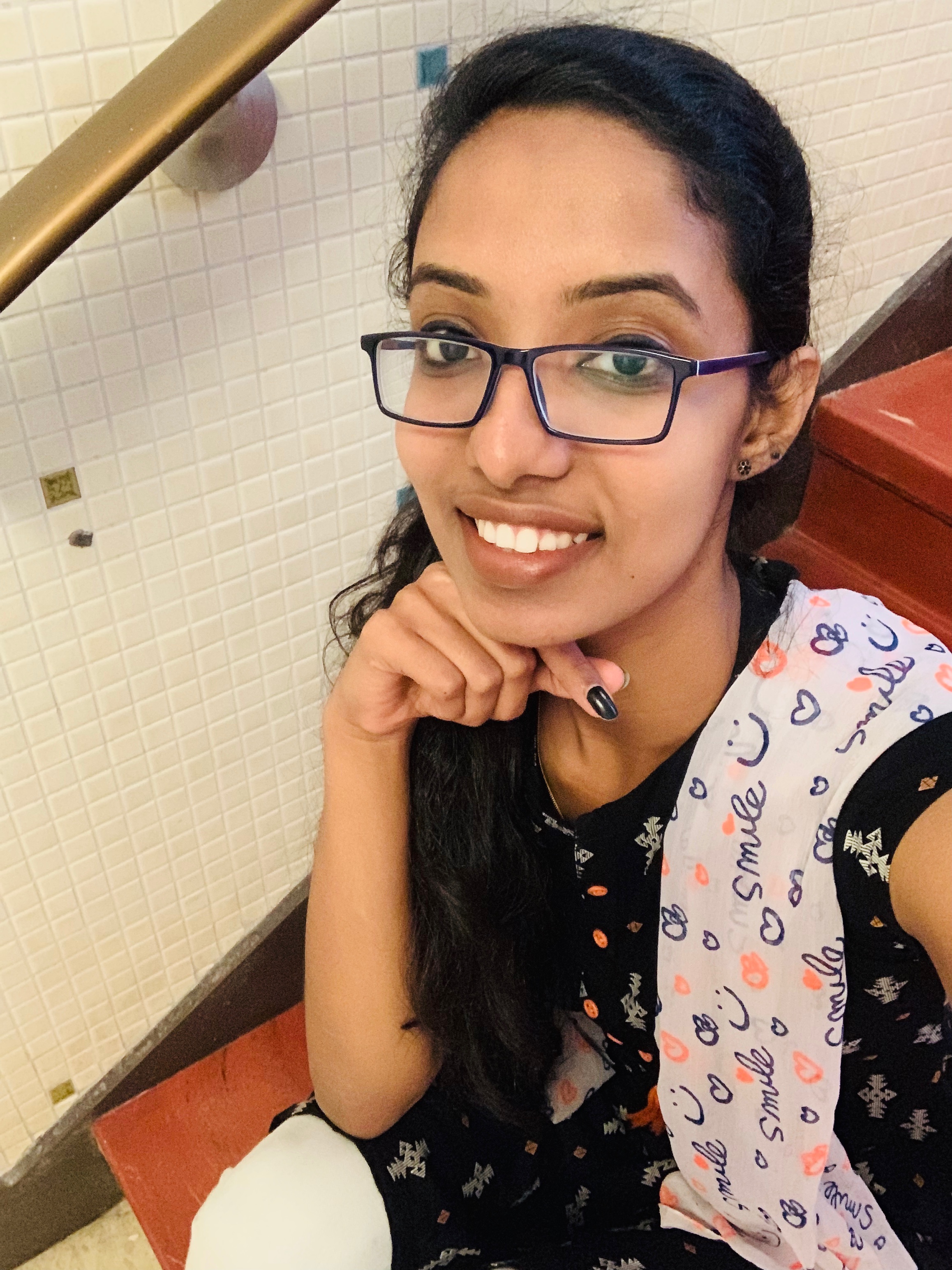 Hi Everyone!

My name is Anjaly S Menon. I am in the second year of my Ph.D. program at the University of Houston (UH). I am originally from Kerala, the southern state of India. I completed my Bachelors and Masters at IISER (Indian Institute of Science Education and Research), Mohali in India. It was a five-year dual degree program where I studied all science subjects for the first two years and majored in Physics starting from the third year. I graduated from IISER in 2018 and joined the University of Houston in the fall of the same year.

My Master's thesis was under Dr. Satyajit Jena, who is a member of the ALICE collaboration. Currently, I am working in the research group of Dr. Rene Bellwied and Dr. Anthony Timmins at UH. I got to know about this ALICE Junior Representative (JR) election from an email sent by the Juniors Committee. Apart from the enthusiasm to take this leadership role, one of the reasons I want to run for this election is that I thought it would be a great opportunity for me to learn about ALICE collaboration, interact with the people and understand various works that they are doing.

I believe there are juniors who are not aware of the chances they have in getting involved within the collaboration. I also had similar thoughts until I discussed it with some of the members of junior committee in person. If I get elected as a JR, I would try to make sure that every junior who join ALICE are attentive of all the opportunities that are accessible to them. My hope is to encourage others that have little experience in the ALICE collaboration or knowledge of the JR leadership role to get involved in the junior ALICE community. I think that the most important qualifications for becoming an ALICE JR is the desire to work hard, to learn from others and pass that knowledge forward to those that come after you. By being elected as an ALICE JR I hope to pave the way for those who think they are underqualified or too inexperienced to take an active role in this community. It also seems to me that being a beginner, I can understand the freshmen in a better and productive way.

I would also like to represent the women in Physics at UH. In my view, having a platform for women to talk about working in Physics and being successful in their career, would be an inspiration for young girls who are interested to come forward and pursue this career. The goal of this should not be to discuss biases based on gender, rather to show that everybody enjoys equals opportunities and that women are treated equally in science. If there exist similar programs already in ALICE, I would like to work towards its progress.

Even though my experience in working with ALICE is limited, I have always had interest in participating in social activities and discussions. In summary, if elected as a JR, I would be happy to work hard in undertaking the required responsibilities.

Best,
Anjaly
 
---
Zuzana Moravcova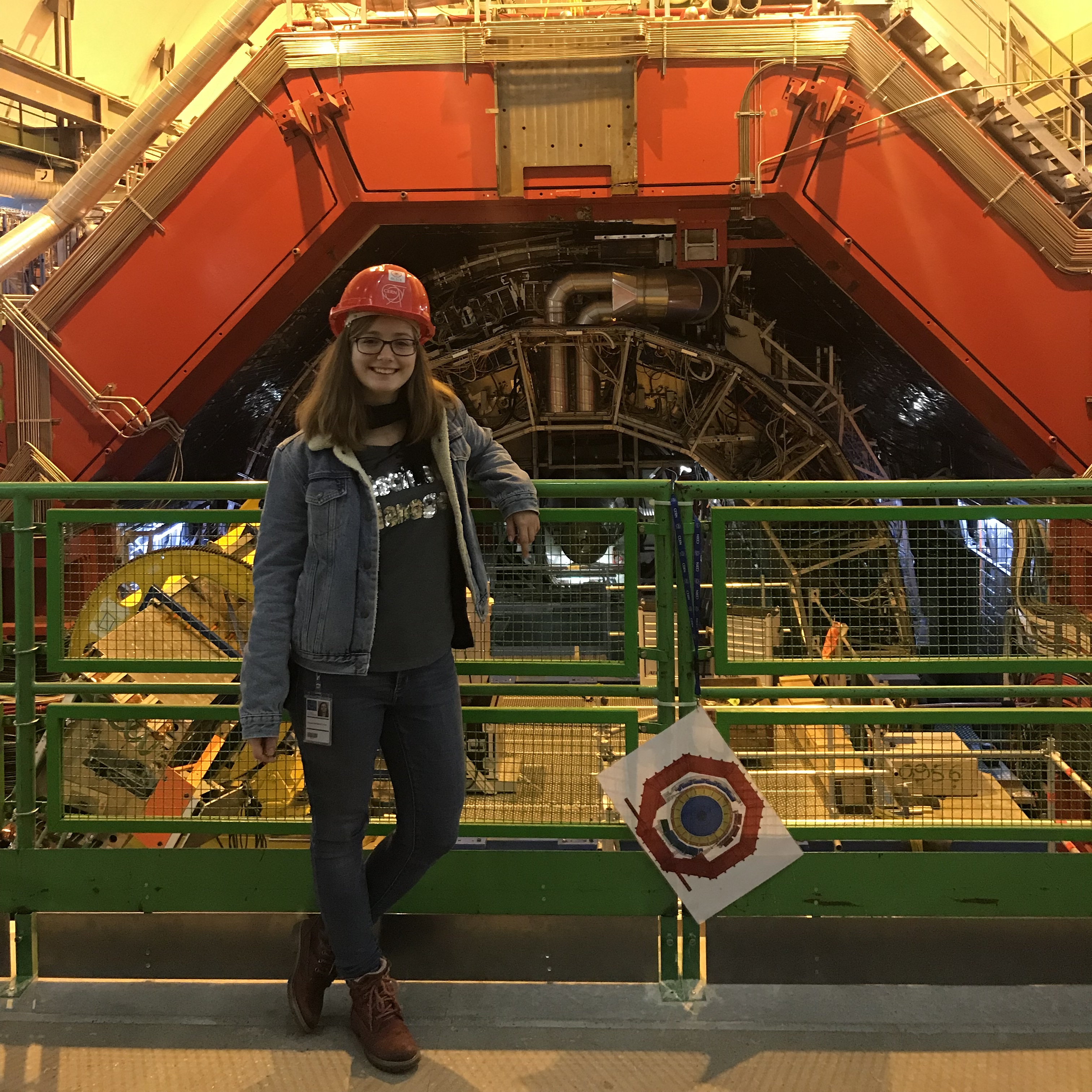 Hello everyone, 

My name is Zuzana and I am from Slovakia, but I am currently based in Denmark where I am doing my PhD at Niels Bohr Institute. 

I studied Experimental nuclear and particle physics at the Faculty of Nuclear Sciences and Physical Engineering of the Czech Technical University in Prague. During both my bachelor and master studies, I was heavily involved in the STAR experiment. My physics analysis was dedicated to the reconstruction of D mesons using machine learning algorithms and subsequent anisotropic flow calculation. Additionally, I was participating, similarly to many Juniors, in shift taking and software development. 

My first connection with CERN (outside being a very curious visitor back in the day) was in summer 2018 when I had the privilege to be a summer student with the ALICE experiment. The project was dedicated to the study of TOF detector resolution using cosmic muons and got me into Alice Matters (October 2018). :)

This experience reassured me of my motivations to follow the career path I have chosen, and as I greatly appreciated the rich diversity of the scientific community in CERN, it also made me start contemplating applying to universities abroad for my PhD. I was honored to start my postgraduate studies last summer at Niels Bohr Institute of the University of Copenhagen in Denmark. A couple of months into my PhD and my membership in ALICE, I became ALICE Junior Ambassador for Denmark. Moreover, I have organized an underground visit (at CMS) for ALICE Juniors during the last ALICE week, and more visits are coming once this unfortunate situation with COVID-19 is over.

My current research is dedicated to the study of the anisotropic flow of identified particles across all collision systems within PWGCF Flow PAG. Two months ago, I became a LEGO train operator for this PWG as well. My service task, which will start soon, and which will allow me to spend some time back on the CERN site, will be dedicated to the High Multiplicity Trigger for pp collisions during Run 3. 

I have always believed a scientist should somehow contribute to the community which is the reason why I was heavily involved in the organization of many events of various kinds with a focus on outreach, networking, and professional development. Most of these were connected with my active membership and later a presidency in the European Physical Society Young Minds Prague section. One of the activities I could have never missed was International Masterclasses – hands-on particle physics, including ones that I co-organized on the Day of Girls and Women in Science. Moreover, I was the head of organizing committee of Young Minds Leadership Meeting, the biggest conference of Young Minds representatives from all across Europe.

Finally, what is my motivation for running for a Junior Representative? I have organized many scientific and non-scientific events over the past years, and I would like to use my experience for ALICE Juniors as this group has a very large potential. Various visits are just a tip of the iceberg, as we all have plenty of common, and it would be nice to have a possibility to share our knowledge on things such as service tasks or how to solve a specific grid problem. I also strongly believe that Juniors are a big part of our collaboration, and I would be honored to represent them. I am very enthusiastic about early career researchers and their voices in our community, about our work-life balance, and about underrepresented groups – most notably about women in science. Last but not least, as I actively participate in online and offline discussions with Juniors, and I join Juniors' social activities when I have the possibility, I believe I can be the right person to represent you. 

Take care, stay safe and healthy, and wash your hands properly.

Cheers,
Zuzana
 
---